Goose Lane Editions
Suite 330
500 Beaverbrook Court
Fredericton, NB
E3B 5X4 Canada
t
506.450.4251
tf
888.926.8377
f
506.459.4991
e
info@gooselane.com
August 15, 2012

On the subject of blurbs
Posted by Corey Redekop
Who doesn't love a good blurb? Even the word signals happiness and contentment and silly joy. Blurb. blurb blurb blurb.
What's a blurb, you ask? Blurbs are those quotes from famous authors that dot book covers to draw you in, such as:
"Amazing! I wet the bed in terror!" Stephen King
"Astonishing! I wet Stephen King's bed in excitement!" Alice Munro
That sort of thing.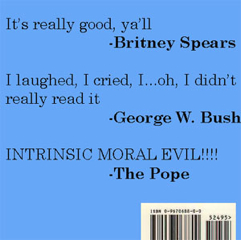 For authors, such blurbs are a vital tool; not for sales, particularly, but for ego gratification. Authors are their own worst critics (I speak from personal experience i.e. i can't stand what I write), and getting an endorsement from another author can be a soothing balm over the tortured writer's soul. "At least someone likes it!" It's a badge of honour of sorts.
But do blurbs work on readers? That depends on any number of factors; the reader, the author, whether the book is hard- or soft-cover, what the reader had for lunch that day. A blurb is meant to signal to the reader that this author whom you admire admires that author, and thereby, by the transitive property of equality (if a =b and b=c, then a=c), you admire that author.
See? Algebra does have a use in our daily lives.
But like all math, this equation doesn't always add up (again, that's personal experience talking here. I'm no calculatician, I can tell you.). Publishers wrestle with this problem every day. Blurbs can provoke indifference. Sometimes they can have an adverse effect: why would you ever purchase a book recommended by an author you can't stand?
In the end, blurbs are a tool, like everything else in the publicity tool-belt. You cannot hope to gain attention by one, you must use them all. To continue the tool metaphor, you can't build a house with only a hammer, you're going to need a few nails in there, and perhaps a belt sander. And while a hammer may be fine, there is always the possibility of getting a better hammer.
There is also the possibility of overuse and unreliability. A.J. Jacobs has blurbed so many books he fears he may have an addiction. Nelson De Mille gave a glowing blurb to Dan Brown's The Da Vinci Code, then later admitted that his publicity department wrote it, and that he couldn't remember reading it.
So blurbs are useful only as much as we let them be useful. I fall for anything recommended by Thomas Pynchon, but that's just me. If they catch your eye, great. If they don't, perhaps our wonderful cover design will. No? How about the awards we've won?
Wow, fickle audience.
Filter by...
December 17, 2012
Cloud atlas ...
more
September 14, 2012
Soooo busy... ...
more
August 15, 2012
On the subject of blurbs ...
more
June 10, 2012
Cute fluff and true beauty ...
more
May 25, 2012
We have been delinquent... ...
more
May 23, 2012
Where I answer questions no one asked ...
more
March 26, 2012
Design Cities...on the west coast ...
more
March 12, 2012
The dos and do not dos of author photos ...
more
February 28, 2012
B is for Bukowski ...
more
January 30, 2012
So much to do, so many distractions ...
more
January 28, 2012
Musings from the Love Hotel ...
more
January 25, 2012
Reading Challenge ...
more
January 24, 2012
The Author Reading, or, How to Avoid the Super Monkey Death Car ...
more
January 18, 2012
How to survive ...
more
January 17, 2012
Rivalries ...
more
January 11, 2012
Tweeting ...
more
December 30, 2011
Attila the Hen ...
more
December 30, 2011
Tree Tale ...
more
December 21, 2011
Counting down... ...
more
December 14, 2011
Blog Book Tours - the new frontier ...
more
November 30, 2011
It's My Most Favourite Time of The Year ...
more
November 28, 2011
A new day, a new week ...
more
November 27, 2011
Fresh from the Salon ...
more
November 24, 2011
The Mask of the Man ...
more
November 23, 2011
I should be in Toronto...
...
more
November 19, 2011
Read on ...
more
November 18, 2011
Launch! ...
more
November 17, 2011
Publicity ain't a one-person dance ...
more
November 17, 2011
Strength and fluidity ...
more
November 16, 2011
Thoughts turn to... writing? ...
more
November 2, 2011
The Goose's Gregorian Gander ...
more
November 4, 2001
Equaling the Degrees of Separation ...
more