The Dead Sea Scrolls make their online debut
By
the Branta Webcrawler
• Sep 26th, 2011 • Category:
Brave New World
,
Editor's Picks
,
From the Interweb
,
Graphic Stories
via Quill & Quire / Steven W. Beattie
The Dead Sea Scrolls, believed to be the oldest extant Biblical texts, are available for viewing online for the first time as of today. According to PCWorld, the online exhibit, curated by Jerusalem's Israel Museum, is going live in time for the start of Rosh Hashanah, the Jewish New Year, at sunset this coming Wednesday.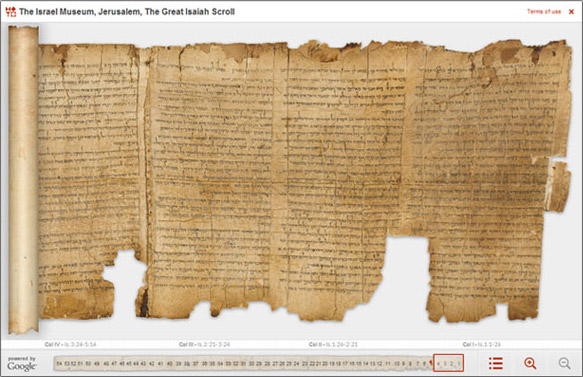 More than just pictures posted to the Web, the exhibit is interactive. Not only can you zoom in and out on a scroll – which is photographed at 1200 megapixels, almost 200 times the resolution of the average consumer digital camera – but you can click on areas of Hebrew text in the scroll and get an English translation of it. Viewers may add comments regarding the documents that others can see and comment on, too. What's more, you can perform text searches on the scrolls.
The Israel Museum worked in collaboration with Google to prepare the exhibit. The scrolls themselves are so fragile they cannot be exposed to direct light; the digital exhibit allows anyone with Internet access to view them at any time of the day or night. From Bloomberg:
Sections of the scrolls are on display at Israel Museum's Shrine of the book and rotated every three to four months so as to minimize exposure. Only a facsimile of the Great Isaiah Scroll is on display. The Google tool on the Israel Museum website makes entire scrolls accessible and allows browsers to zoom into the text as well as read its translation in English.
"This gives you a way to understand the beginning of biblical history," said museum director James Snyder. "Nothing could be more important."