Erin Knight talks to Ashliegh Gehl about Chaser
By
the Branta Webcrawler
• Apr 12th, 2012 • Category:
Book Reviews
,
Feature Post
,
From the Interweb
,
Goose Lane Authors
,
Interviews
,
Poetry
From Open Book Ontario
By Ashliegh Gehl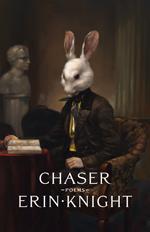 When SARS touched down in Toronto almost a decade ago, white surgical masks and latex gloves became items on the grocery list. Six years later, H1N1 prompted a hand sanitizer shortage due to excessive hoarding. Both cases globetrotted at the expense of international travel.
Long before H1N1 was declared a pandemic, poet Erin Knight was doing some traveling of her own. That's when she began to formulate the idea behind her new collection of poetry, Chaser.
"I was thinking about how much smaller the world is in terms of illness, because there's so much travel," she said. "People are going all over the place, so if there is a certain outbreak it would take very little time for it to actually arrive everywhere."
Chaser is the poetic equivalent of Edward Burtynsky's Oil. Much like Burtynsky, she starts at the seed of her idea and then branches to the human condition, the perpetual need for diagnosis.
"We're all sort of in this state of pre-diagnosis, where we're just kind of waiting for however it is that our body is going to fail us."
She even recalls watching a talk show where people had to make a decision between $1,000 cash or being given a CT scan.
"Even if they have no symptoms they could be potentially diagnosed with something," she said. "People would choose the full body CT scan, as if they're hoping to find something."
Unlike The Sweet Fuels, her first collection of poetry, Chaser is more like one long poem inspired by a handful of texts. Her interest in other people's mail propelled her to read the letters of John Keats and Katherine Mansfield, taking note that most writers from a certain time period suffered from tuberculosis simply because it was just something everyone seemed to have. But it was in Keats's letters that she started to tap into the value of his words.
—
Erin Knight is the author of The Sweet Fuels (Goose Lane), a collection shortlisted for the Gerald Lampert Memorial Award and longlisted for the ReLit Award in 2008. Her newest collection, Chaser (Anansi) was released this month.
Erin will be reading at the Anansi Poetry Bash in Toronto on April 25, 2012 with poets Dennis Lee, A.F. Moritz and Erin Moure.
---